Mobile phone usage has transcended all predictions, and has become the number one way to access the internet, anytime, anywhere. If your site is not mobile-friendly, you're losing out on the biggest source of consumer shopping there is today.
Genesis
In the beginning, we accessed the internet only one way. We got on the computer, and sought out information, and sites directly related to what we were looking for. We had to know exactly where to go, because Google did not exist. Then Google came about, and browsing this endless source of information became much easier. With the rise of mobile technology like PDAs and smartphones, tablets and notebooks, this became even more ubiquitous. Over time, people began to shop online more and more – as the benefits outweighed the potential risks, and shopping online became safer, and far more profitable. These days, the vast majority of shoppers prefer to shop online for most of their purchases, and they do so increasingly on their mobile phones.
Motivation
We all need to shop, whether it is for groceries, everyday goods, or gifts for others, but we don't all enjoy going to a crowded store where we'll get jostled by other shoppers, have to navigate around them, carts, screaming children, and then wait in a queue to purchase our goods. It's just not a pleasant experience overall and having finished shopping out there, we come home drained and wanting to do nothing at all. It may be no small surprise then to learn that mobile shopping has increased from $396 million in 2008, to $119 BILLION in 2015, which has only grown since then according to ABI Research.(1) The reasons, according to a study published by the International Journal of Electronic Commerce (2), are as follows: Value motivation, role motivation, adventure motivation, social motivation, gratification motivation and idea motivation.
Value Motivation
Value motivation is the shopping done for sales, discounts, and bargain hunting. These are the shoppers who are not necessarily looking for anything in particular, but are looking specifically for deals. These shoppers were found to purchase these deals even when they had no intention of spending anything when they began browsing.
Role Motivation
Role motivation is the enjoyment that people get when they are shopping for others, and it also pertains to the excitement felt when the perfect gift is found. This helps to strengthen a person's social role they identify with most.
Adventure Motivation
Adventure motivation is when customers encounter something that is both novel, and interesting, something not seen before, which triggers a sense of exploration and kick-starts curiosity. These kinds of shoppers frequently find themselves browsing shops which offer things they're not used to seeing, and are more likely to buy just from the novelty aspect alone.
Social Motivation
Social motivation is not the same as role motivation, though it seems so. Social motivation is shopping with friends and family present and takes up the context of socializing with others while shopping. This has limited capability with mobile, but is still present, as when family members show someone else in their family, or their friends, a link to something they wish to purchase, to get feedback about the item.
Gratification Motivation
Gratification motivation refers to shopping simply for stress relief, it's retail therapy. It could be to get rid of a bad mood, or to treat oneself to something special as a reward. It becomes something that is done to bring the body back from a state of stress, to one of homeostasis (where the body is healthy and balanced).
Idea Motivation
Idea motivation deals with the motivation to keep up with trends and fashions, and to be part of the new products and innovations that continue to roll out. This motivation leads people to shop online for all the latest and greatest things, trendy things, and things they can't get where they live and can only be bought elsewhere.
Why Motivation Matters
When someone is shopping on your site, you need to think about why they're there. By knowing what motivates someone to get online, and to commit to a purchase, you're better able to serve your customers well, and also to predict their future shopping patterns. You may be able to use this data to augment what your site offers, or to come up with a bargain that people cannot resist. ALL of these motivations were found in the study, to greatly impact mobile purchases, and this can only serve to help you improve your mobile offering to people, and perhaps to see why it is absolutely crucial to be mobile friendly.
Increasing Usage
One-third of smartphone users reported that their phone is the primary way they go online in 2012 according to the Pew Internet and American Life Project.(3) Now, that is just in 2012, and we've come a long way since then. Today, mobile phone purchases stand to take over those made by PC or in store. This is something that nobody thought could or would happen, but then look at e-books! People thought that nobody would put down a book for an electronic reader instead, because the value of reading a real book would be too much of a deciding factor. They were wrong. A study published in the American Economic Review (4), mentions that the reason mobile shopping has not grown even more by now, is the fact that merchants persist in not making their stores mobile friendly.
Stats and More!
The most recent holiday season that we've passed saw online sales growth of 13% in 2016, which was a lot higher than their prediction of 7-10% according to the National Retail Federation.(5). Fluent(6) recently did a survey of 2,773 adults in the US, which showed smartphone use far and away the biggest at 55% (see graph below)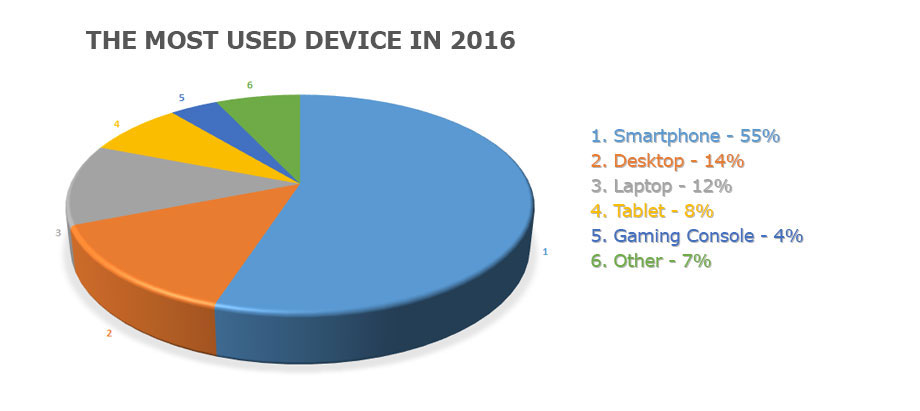 Even more surprisingly, mobile purchases were also the most commonly used at 54%.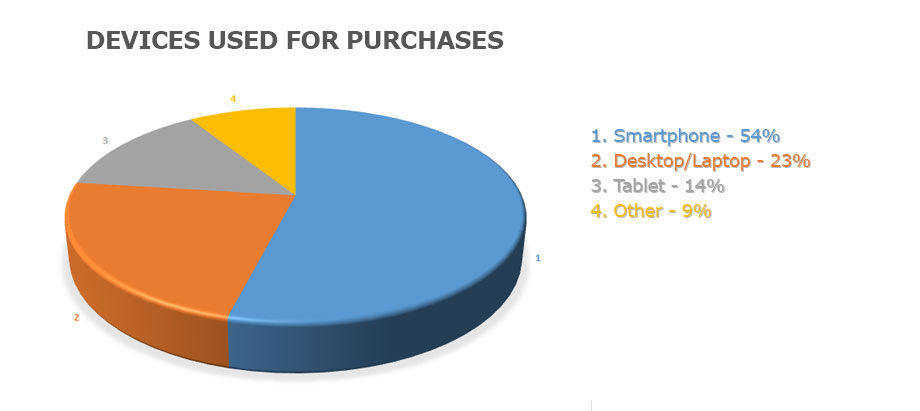 Here are some more related bits of data:
When it comes to mobile websites, women are more likely than men to shop on them.
Smartphone purchases on apps are done by more men than women.
Americans from ages 18-34 are more likely to shop using mobile apps, and those over age 45 are more likely to purchase from mobile websites.
Android users shop more on mobile apps, and iOS users more on mobile websites.
21% of respondents say they made a smartphone purchase after they got a promotional email, compared to the 18% who got either a text or mobile push notification.
3/4 of email is read on mobile phones.
The Future
Increasingly, mobile purchasers are clamoring for things like easier navigation, increased speed, enhancements to security, and the ability to one-click purchase. People want to be able to shop online with all the benefits they would get if they went into the actual store. Today the lines are blurred between shopping online and shopping in-store, and stores have committed to calling all forms of shopping "retail" and to ensure they deliver the best experience regardless where it comes from. The future is mobile technology, and the time is now. If you have a site that is static, and not mobile friendly, contact us today and we'll help you move into the future!
References
ABI Research. Shopping by mobile will grow to $119 billion in 2015.

ABI Research, Oyster Bay, NY, 2010

(available at www.abiresearch.com/press/1605+Shopping+by+Mobile+Will+Grow+to+%24119+BIllion+in+2015/).

Ono A, Nakamura A, Okuno A, Sumikawa M. Consumer Motivations in Browsing Online Stores with Mobile Devices.

International Journal Of Electronic Commerce [serial online]. Summer2012 2012;16(4):153-178.

Available from: Business Source Elite, Ipswich, MA. Accessed January 23, 2017.

Pew Internet and American Life Project

(http://pewinternet.org/Commentary/2012/February/Pew-InternetMobile.aspx)

Growth, Adoption, and Use of Mobile E-Commerce.

American Economic Review [serial online]. May 2014;104(5):489-494.

Available from: Business Source Elite, Ipswich, MA. Accessed January 23, 2017

McGee M. Holiday e-commerce sales crushed expectations, NRF says.

Marketing Land.

http://marketingland.com/holiday-e-commerce-sales-crushed-expectations-nrf-says-203556

Published January 17, 2017. Accessed January 23, 2017.

Sterling G. Survey: mobile devices eclipse PC usage and, in a surprise, drive more conversions.

Marketing Land.

http://marketingland.com/survey-mobile-devices-eclipse-pc-usage-surprise-drive-conversions-204128

Published January 23, 2017. Accessed January 23, 2017.