If pictures speak a thousand words, then audio must be all the languages of the world when coupled with pictures. There are many ways to help boost the power of your photo content, but none so much as making it into a slide show or presentation complete with audio.
People love to learn by listening so they can repeat the process themselves and see results. When they're forced to read through long sections of text, they may quickly become bored and disinterested, and before long – skimming text becomes skipping text, and they leave the page or post altogether. In this fast-paced world, people are coming more and more to posts which present something to them that is easy to digest and understand, and doesn't take much time.
Videos or slide shows with audio are perfect for this, because someone can set it to play on their way to work without having to watch anything and if they like what they hear, they can queue it back up when at the office to watch and listen again. Since it doesn't take up a lot of people's time they're more likely to listen through to the end, and coupling this audio with pictures that you have chosen makes the process that much more impactful. More on that here: Create Amazing Images For Social Media
Here are some statistics that can help back this claim up a bit so you can see just how important it is to use interactive content. Using interactive/video content to a website can increase the chances that Google puts it on their front page by 53 times. Audiences are ten times more likely to engage with video/interactive content by embedding, sharing, or commenting than a text-only post. There are tons more statistics available in a handy infographic you can find here. It becomes very easy to see why even having a simple video which is no more than a series of text-based slides can make all the difference to your posts and audience.
I'll get more into video programs you can use in a later post, but one that most everyone has on their computer is Microsoft's Movie Maker, which allows you to take slides and piece them together into a slide-show, but it is by far not the only one. This post will cover the audio you'll need for your slide-show, or even just to pair with a still photo or infographic.
There are two levels of free audio programs you can use; one is very basic and easy to use, and the other is far more advanced and will require most people to use the tutorials or "help" sections to get the most out of it.
MooO

The first program is called MooO Voice Recorder and it's by far the easiest to use. All you do is download the program, plug in a headset (recommended) and then set where your input is coming from and you're done with setup. You can easily test where your voice is being heard from and play it back to see before you start recording.  You'll see a tiny box on your screen with two headings: Setting and About.  The only one you really need to bother with is the one that says Setting. Under this heading you'll find options to keep the application "on top" which means it will always be showing up in front of any other windows you have open; to adjust your mp3 recording quality; options to cut silence in the recording; skins for the program and transparency; language options and a lot more.
First you want to figure out where to save the file. Just click on Browse after Folder, and pick where you want your recordings to be stored. Then, enter what you want the recording to be saved as under File Name, then set the drop box below it for the type of recording you want, whether it's PC sounds and your voice, or just the voice. You can even change if you want it saved as an mp3 or a .wav file, since some programs will only upload one or the other. Push the start recording button and you're done!
Soundcloud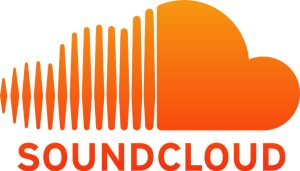 You can even consider uploading your audio file to a site like Soundcloud which will host it for you and make it easy to paste into a post! You can even use it to record your audio by choosing to record instead of upload. It has no time limit for your recording and will take you to a page where you can enter a title for the recording, set an image and description of the recording, set tags as appropriate, and settings like public, or private. The only issue with it is the fact that when you're recording, the first "take" is never perfect, and usually requires a few recordings over and over to get it sounding just right. To have to upload every time you record without the option for playback so you can hear it first, makes this one great for uploading and hosting, but less so for recording on its own. It is an option however if you find you don't like other programs.
Audacity

The next one is called Audacity which is the more complicated of these programs, but does a lot more. If you're savvy with programs and tenacious enough you can figure out what all the buttons and sliders do on your own, but a good start for all users is to try their help and tutorial sections first, to get a feel for the program and what it is supposed to do. There is even a help and FAQ section on their site that you can avail yourself of if you're stuck. They even have a Wiki to consult, and that is very helpful once you get involved in the program to the point of sound editing. Audacity is basically a virtual sound board that can pair audio tracks simultaneously, can change pitch and speed, as well as a ton more options that this post can't possibly list in a short post.
Audacity basic just means you install the program, let it figure out where your voice is coming from whether it's a headset or internal microphone, and where you want the file to be stored (after you record, and save it) To save the audio you've recorded, you want to either save the project as, if you want to come back to it later after adding more to it – or if you're finished, you can export audio, and save it how you like. If you want to make multiple recordings, or "takes" to ensure it sounds perfect, you can do so in the program by going to Edit, then Undo Record. You can start over as much as you like.
By having your voice coupled with the content you want to present, you increase the chances your audience will actually consume it and respond! There are many levels of user-friendliness in these products for every kind of user, so you don't have to be a sound technician to figure out the best way forward for your recording or preferences.
PRO TIP: Anyone who has taken a public speaking class will tell you that you have to sound excited about whatever you're talking about. No monotone voices, or being quiet and shy. You have to project your voice like you're trying to speak to ten-thousand people in a stadium with no microphone. The inflections in your voice (the high and low notes when you speak naturally) must go up and down with natural pauses and points in the speech, and by doing so you'll keep the listener captivated.
Most importantly – have fun recording, and play with it til you find what's right for you!