---
Paykickstart is more than just a shopping cart. If all anyone wanted was a shopping cart, they're easy enough to shop around for – it doesn't take much to simply be a good shopping cart. Paykickstart does so much more for you.
---
We like to try out new products, and new services so we can tell people what the very best is at any time. We also greatly enjoy creating those products and services. Plus, we are fortunate enough to be part of  the development team for Paykickstart. Does that make us biased? A little :). But it also gives us the best perspective of where Paykickstart is and where it's going, and biased or not, it's in a league of its own, and we can prove it!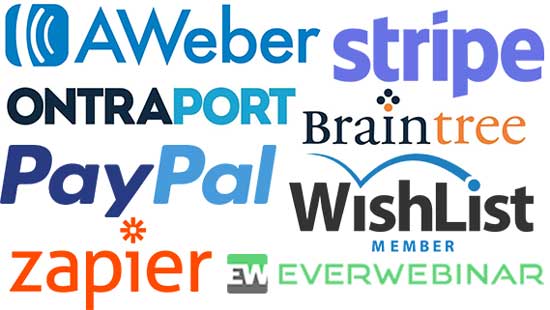 Payments
Anyone who has ever wanted to sell something online, be it a digital item or an actual physical item, can use Paykickstart as a powerful, all-in-one centerpiece. You can choose whether you want to take credit card payments, or PayPal, as well as a host of other options integrated, secure, and encrypted. This takes having to worry about whether you're trustworthy or not, or the system is – out of your hands. It's backed by well known, trusted partners.
Digital or Physical?
You can sell a digital product AND physical products, services and more all in one place, which makes it ideal for those with both an online and physical presence. You can choose how you want people to pay as well, whether it's a one-time payment, or a subscription service – as well as the ability to offer free and paid trials.
You get payment options already set up for you, in a beautifully easy to read screen, as well as plenty of templates you can choose from for your checkout.
It does more…
EXTRAS
Checkout form embedding, language translations to reach a broader audience, different currency options, as well as VAT compliance are all worked in.
You can enable customers to shop with one-click using credit cards and PayPal, and run discounts or sales using a coupon that expires to get a dollar value or percentage off your price.
You get the ability to offer something "extra" at checkout to upsell using order bumps, and Paykickstart will even keep the customer's payment method updated using the subscription saver.
You can send out emails to those customers who left their carts or otherwise failed to buy, to try once more and get the lost sale back, and you'll even be able to have pre-filled checkout pages and autocompletes for people so shopping can't possibly be easier.
When people want to leave, there is an exit-intent option which is one last chance to get a sale before they go. It can help if people are on the fence about buying.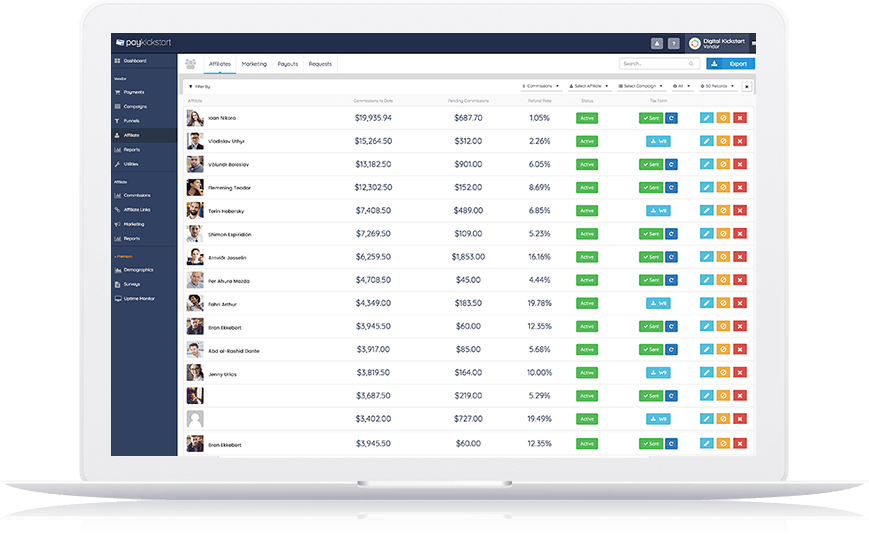 Affiliates
If you've never worked with affiliates, it could be a great time to start. Affiliates can make the most of time and money, by spreading the work to many, and sharing the profits. This helps get your name out as well, and if your product or service is as good as you think it is, it can make many people a lot of money.
Paykickstart allows you to see all your affiliate partners, pending commissions, the rate of refunds as well as plenty of forms for federal accounting at tax time.
You can choose if you want commissions given instantly or delayed, so you can go over the refunds given, or at some other time mutually decided upon.
Affiliates get plenty of built-ins with their own login area, with a unique affliate link, banners, email swipes and even contests!  You can even offer bonuses which go out to people who buy using a link as a thank you.
You can see which traffic sources are providing the most sales, and you can pay affiliates using options like PayPal's Mass Pay, bank transfer and other options.
POWERFUL BENEFITS
Paykickstart gives you back a lot of time and having to login to a ton of different services, including inadequate services to get a similar experience. The problem has always been how to give enough to someone, without being overwhelming and we think it has found a beautiful balance, offering plenty of services for every sort of business.
It will integrate into whatever your email system is, like MailChimp, GetResponse, AWeber & more. This means that you're able to actually work with your automated emailer using Paykickstart, saving yet one more place you have to go to get your marketing plan rolling faster.
Have you ever gone shopping online and found that when you checked out, you were taken to a screen where you could watch the progress of your shipment? Paykickstart gives you the same option, allowing you to ship actual, physical products to your customers, and delight them as they watch it along the way.
If you still can't find an integration within Paykickstart that you like or need, you will with Zapier, which is integrated and can help you find hundreds more, making your options nearly limitless.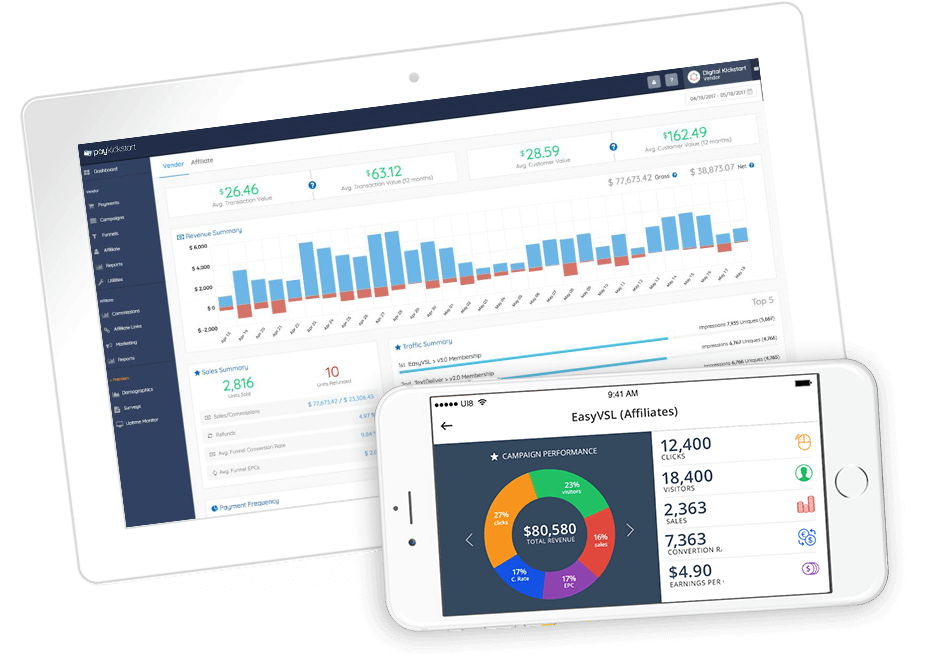 Taking It Out For A Spin
Vendors get to see what's going on at a glance, with charts, graphs, data, all talking about traffic, sales, conversions and your affiliate metrics. Affiliates get similar options, providing valuable tools to boost sales.
You can run reports like conversion reports which show you your conversion rate, earnings per click and per sale; subscription reports; traffic reports including impressions and click stats. You can even see reports on your affiliate partners, to see who is performing the best – in case you want to offer a contest to reward whoever wins! (You should totally do that.)
On The Go
You can even take it with you with the mobile app.  Paykickstart is giving you back even more time by letting you sit down from the computer after a long day. On your tablet or your phone, you can do many things using it like approving or denying affiliate requests, setting payment options like free trials, and seeing campaign performance.
It can actually give you back so much time, and so much hassle dealing with all the different sites, services and issues with each by doing it all for you, and so capably too. It's amazing how much of this is a time sink, you don't really notice the time until you get it back. It's products like this one that can help people reconnect with each other instead of spend endless hours in front of their screen having to work.
We know you'll love it as much as we do, it's been an adventure being part of the developement process and we're excited to share it with you.
View our special offer here (training, 30-day free trial & more)
Visit the offical page here